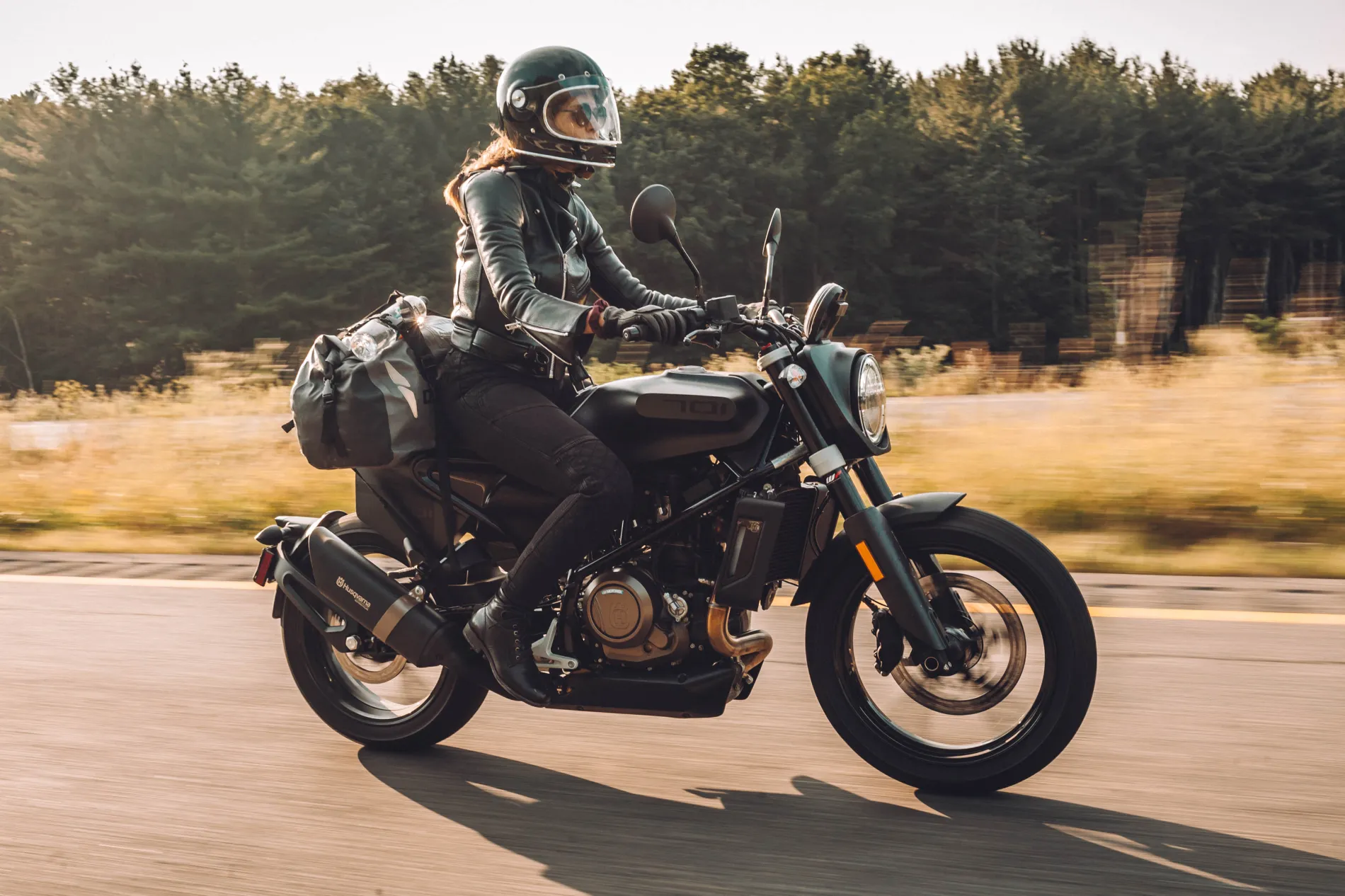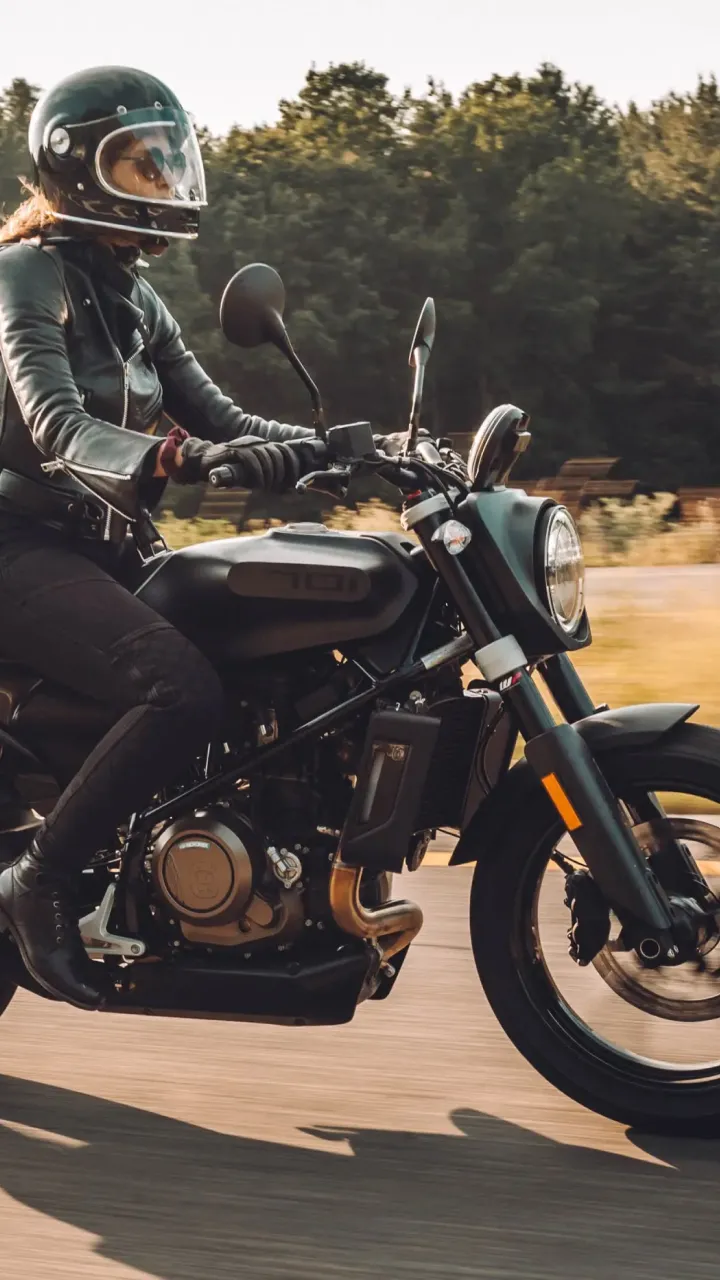 Women on wheels: How Husqvarna Motorcycles is putting women's hands on the throttle
Originally a musket manufacturer founded in Huskvarna, Sweden in the 1600s, Husqvarna began building motorcycles in 1903, nearly a half century before the Japanese manufacturers entered the market Over the decades, the Husqvarna brand name also came to adorn outdoor power products such as lawn mowers and chainsaws, earning a stellar reputation for reliability, durability, and performance. Indeed, if you know a professional landscaper or logger, there's a very good chance they're using Husqvarna products, and although the power tool and motorcycle divisions are now under separate ownership, the centuries-old DNA of uncompromising performance runs through both.
In the mid-80's,  the motorcycle division was purchased by Cagiva;  since then, it has seen several owners, including Italian motorcycle manufacturer Cagiva and BMW, before being purchased in 2013 by KTM AG (recently renamed Pierer Mobility AG). Husqvarna's always been a revered brand in the off-road and enduro motorcycle sectors; in 2018 they brought their thirst for innovation and performance to the pavement with the launch of their first ever line of street bike. The intent? To attract both seasoned and novice riders, as well as one of the fastest-growing segments in motorcycling: Women. 
Origin Outside sat down with Allison Thompson, Marketing Manager for Husqvarna and KTM Motorcycles in Canada, to find out more about the brand's focus on women, and how the industry as a whole can make itself more accessible and welcoming to female riders.
ORIGIN: It seems like the brand is really invested in women's visibility in the sport. Did that happen as a part of the brand's mission or because of the opportunity with this market?
Allison: Since Husqvarna Motorcycles joined the KTM family, the brand has become very connected to its pioneering values, and even strengthened them. One of those values is our passion for inclusivity and a welcoming attitude in motorcycling; we genuinely love motorcycling ourselves, and we really want to see more people sharing in the adventure and fun. Right now, women make up about 20% of the motorcycling population. That's double what it was a decade ago, which is great, but women are 50% of the general population. There's no reason they shouldn't be 50% of the riding population, too. I think that can happen, but it won't happen unless we make sure they feel welcome, and unless we have products that meet their needs. Women have made a lot of contributions to motorcycling over the years; we really want to honor that.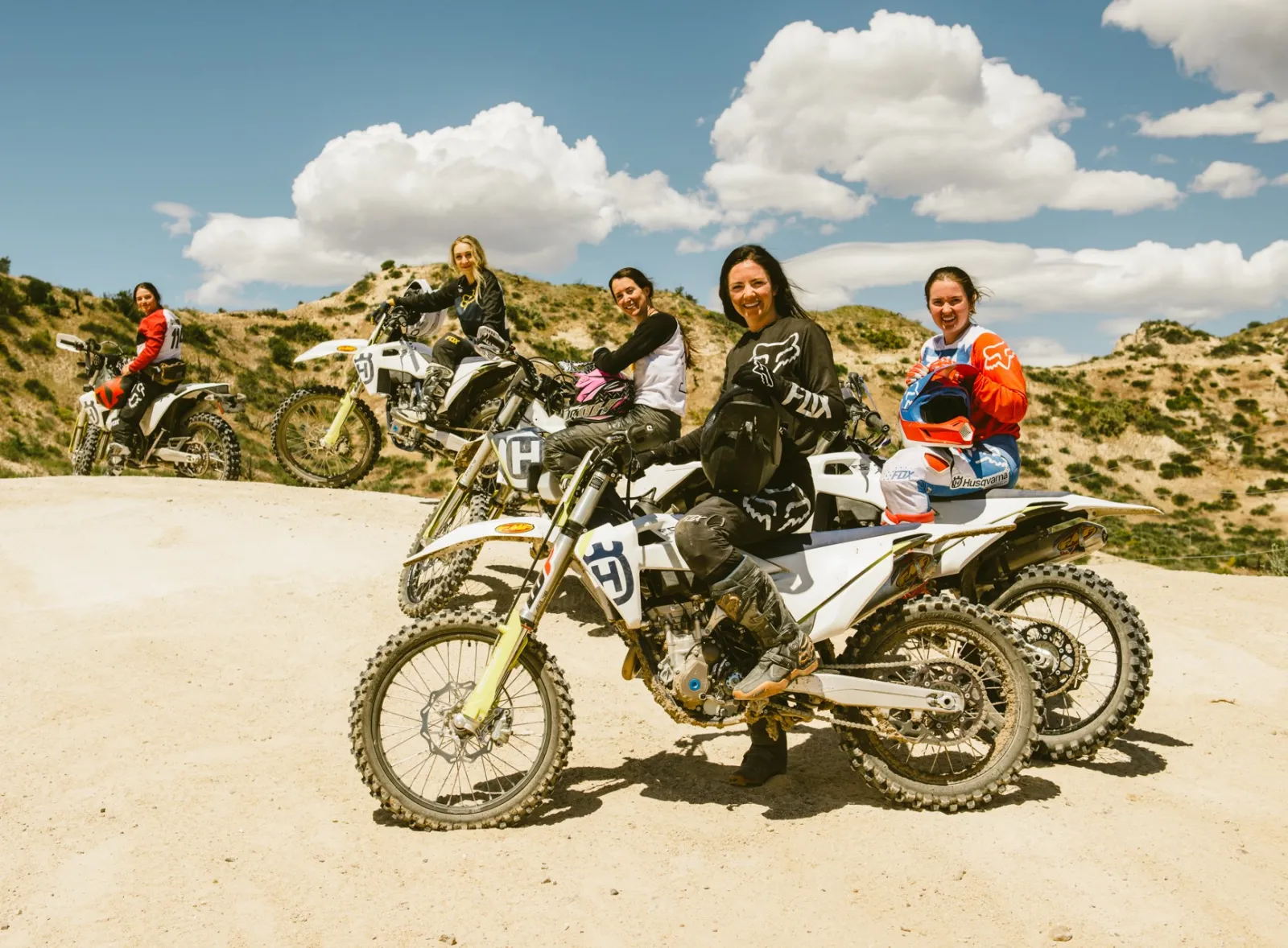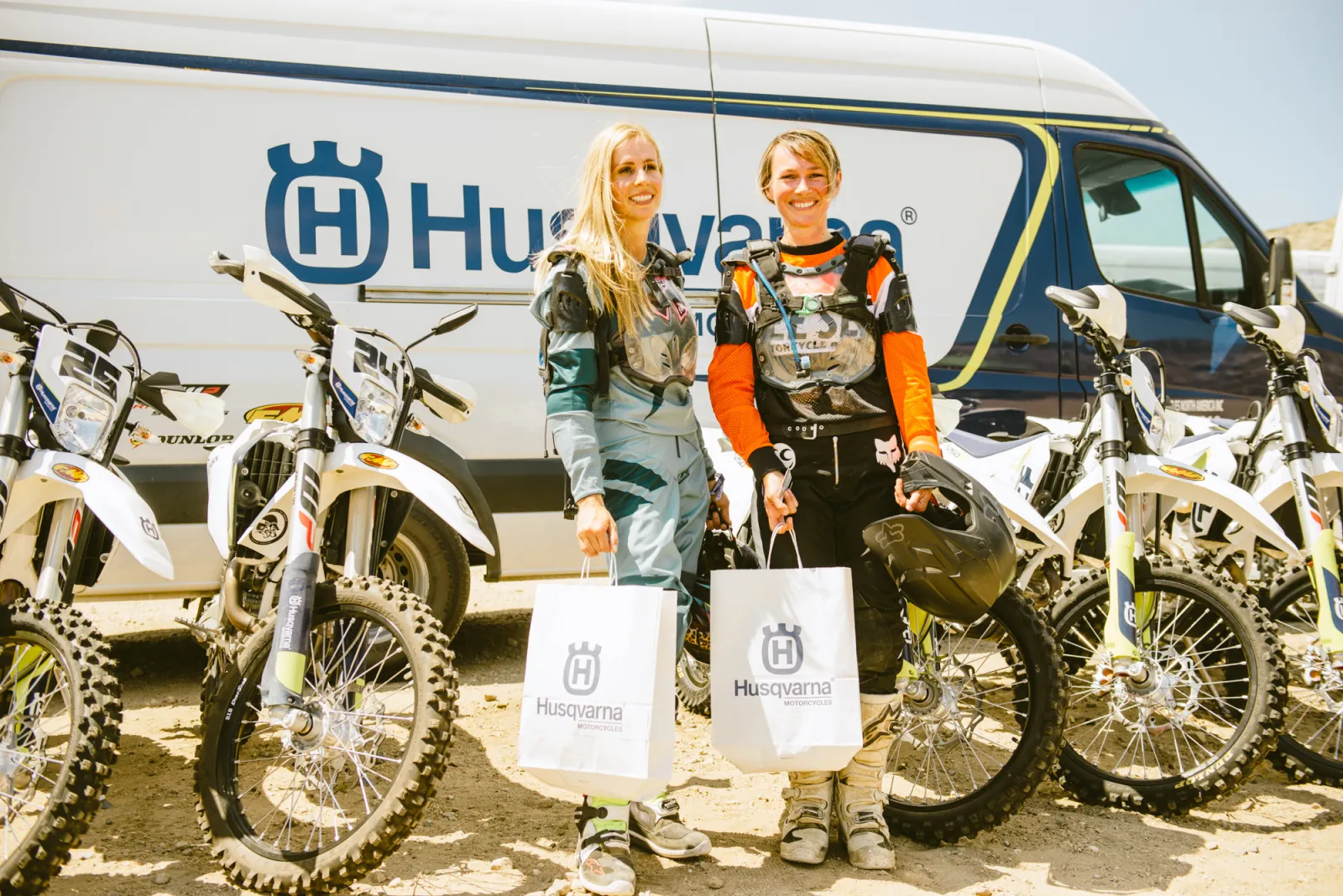 ORIGIN: From the looks of it, there are several women in key leadership positions as Husqvarna (marketing, media, PR, etc). This seems amazing and unusual considering the market. How did this come about? 
Allison: We do have many talented women working here in leadership roles, and maybe that's a little unusual in the industry, but the truth is, women have always been ingrained in the motorcycling world. Some of our female colleagues grew up racing, riding recreationally, or simply as fans of the sport. I think women find their way to Husqvarna/KTM because they see how strongly we support women in the sport, and also that we respect their contributions. For example, you'll never see a Husky ad with a girl in a bikini posed next to a bike. Maybe the magazines or sponsors will still do that, but we never will, and this is a moral code that stems from the very top.  We always depict women as equal participants deserving of equal respect, not because it's a marketing trick, but because it's what we actually believe. 
ORIGIN: Beyond the sponsorship of Babes In the Dirt  (a women's only off-road motorcycle event), what are some of the other ways in which the brand supports women in motorcycling?
Allison: The women's off-road event scene in North America is growing really fast. To put it in perspective, the Babes in the Dirt event started 6 years ago, with 50 women; it now attracts over 600 women from throughout Canada and the US for a weekend of riding and camaraderie. And in Canada this past season, we supported 3 different women's riding events that were attended by 50-100 participants each. That's amazing! 
For the off-road events we support, we bring a fleet of demo motorcycles that includes bikes that are lowered and tuned for novice to intermediate riders. We provide guided rides, training, tips, and bring along our ambassadors to motivate participants. We work with a few exceptional organizations that are really helping to drive women's participation.
Like for many outdoor activities, as a brand we need to contribute to the growth of our sport. To do that, we need to remove the intimidation factor and decrease the barriers to entry by ensuring the activities we support are inclusive. This past summer we had a few women in their 50s and 60s come to our events to try dirtbiking for the first time. We know that this takes a lot of courage because jumping on a motorcycle for the first time is not like strapping on skis or a snowboard for the first time. There are a lot of variables so our team takes the time to make sure the women are comfortable and safe on the bikes before they ride off. Our approach is talked about in the community and is really appreciated, which is great, but what's even better is seeing the excitement, smiles and friendships that are created at these events. It makes us extremely proud. 
In addition to supporting events and activities, we have a strong network of inspirational female ambassadors in Canada. We work closely with seasoned racers & riders like Lexi Pechout, an enduro racer & coach, Desirae Hildebrand, who is an artist and former motocross racer, Ashleigh Kaliszuk, a rider and lifestyle photographer, and Samantha Radics founder of TheMotoSocial.
Learn more about Husqvarna Motorcycles here

ORIGIN: What are some of the key challenges you face marketing to women? Any lessons learned you can share with other outdoor brands who are getting more proactive with women lead and women focused product development and marketing?
ORIGIN: For anyone who's interested in seeing more women join the moto community, what are the three most impactful actions they can take to help make the sport feel more welcoming and accessible?  
Allison: I think we can start by simply communicating that there is a motorcycle and motorcycling gear for every possible rider out there. There's a lot of general perception of motorcycles as being these hugely powerful machines that can be intimidating to new riders of any gender. To be clear, we build very high performance motorcycles, but we also know that "high performance" means different things to different riders, and it's really important to emphasize that. Also, new riders need to know that you are not tied to a motorcycle for life. Almost everybody changes bikes as they progress as riders, or as their tastes evolve. 
The other thing we can do is invite women to join groups or attend events. Not only are they likely to have a great time, there's a really good chance they will meet other women who ride, which goes a lot way toward making them feel as if they truly belong. And they do!
Finally, ensuring that women have appropriate gear and apparel is essential. Of course, safety is extremely important, and should always be the first priority, but we also know that in addition to being safe, women want to look great on their bike. Actually, most men do, too; they're probably just not as likely to admit it! 
ORIGIN: Husqvarna has long been known for its world-class dirt bikes, and you've recently released a new line of street bikes, too. How have they been received? 
Allison: Husqvarna Motorcycles is a premium brand, and we're always going to produce premium motorcycles, no matter where they're designed to be ridden. For our street bikes, the goal was to ensure a design that was both minimalist and striking. A lot of emphasis was put on the design, which generated a huge amount of buzz in the motorcycle community. The first shipment of bikes in Canada sold very quickly; dealers were even taking deposits from people who had never set foot in their stores before! Creating a brand new segment for our dealers is really important to the growth of our business and to motorcycling in general. Particularly because we're a smaller brand, we need to keep innovating and keep surprising people with incredible products that help increase awareness of Husqvarna Motorcycles. The street line is a perfect example of how we can do that. 
ORIGIN: What does 2020 hold for Husqvarna?
Allison: Husqvarna Motorcycles unveiled the updated Svartpilen 701 and Vitpilen 701 street models at EICMA in early November, which was amazing. In the new year, we'll also be seeing the new Svartpilen 401 and Vitpilen 401s. In addition to growing awareness for Husqvarna Motorcycles as a real player on the streets, we'll be continuing to increase market share in the off-road category and to contribute to the growth of motorcycling by ensuring we have the right products. We want riding motorcycles to be accessible to as wide a range of riders as possible, no matter their gender.   
Learn more about Husqvarna Motorcycles here
Subscribe to Origin's "Insights On The Outdoors" monthly newsletter at https://www.originoutside.com/newsletter or contact us online.