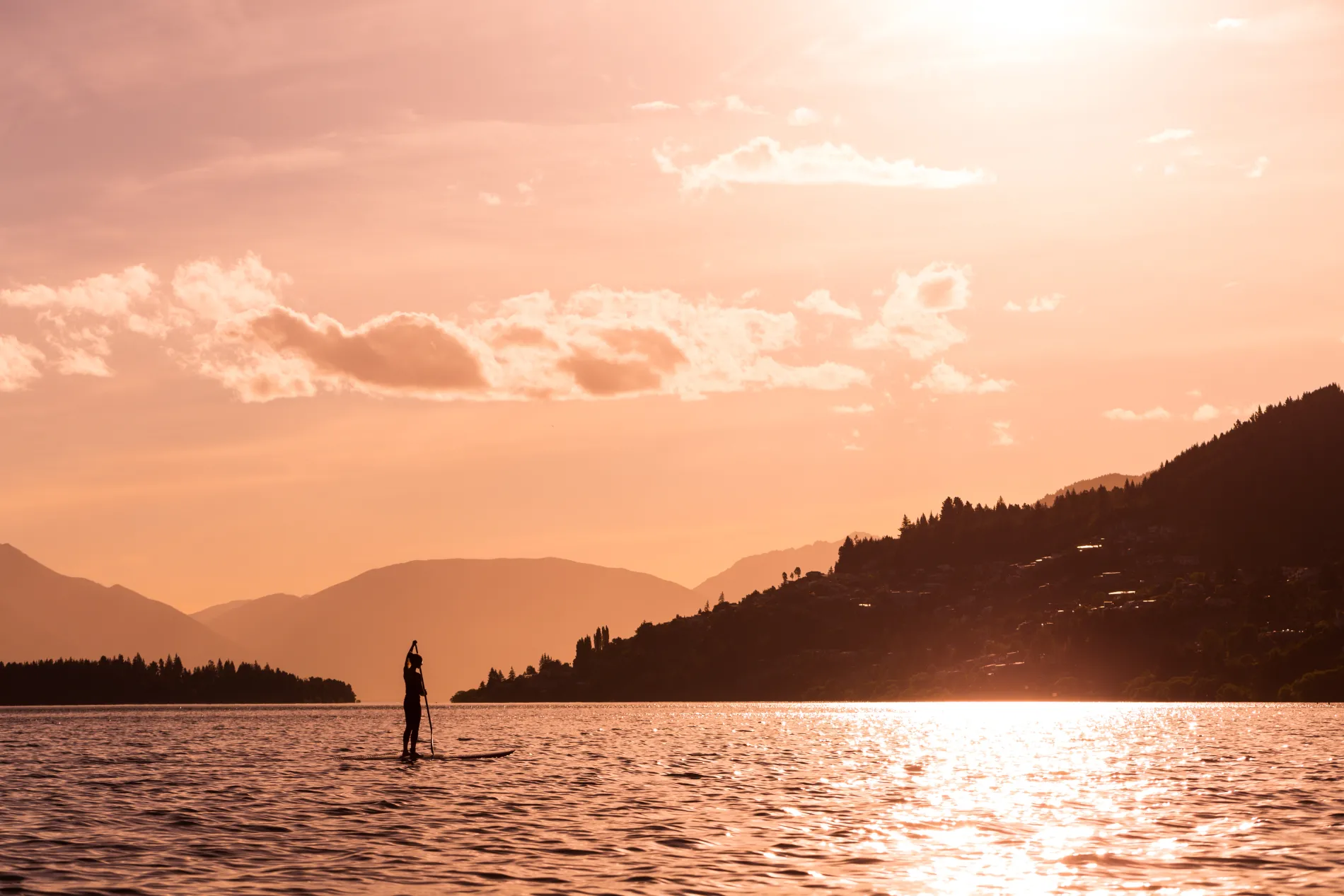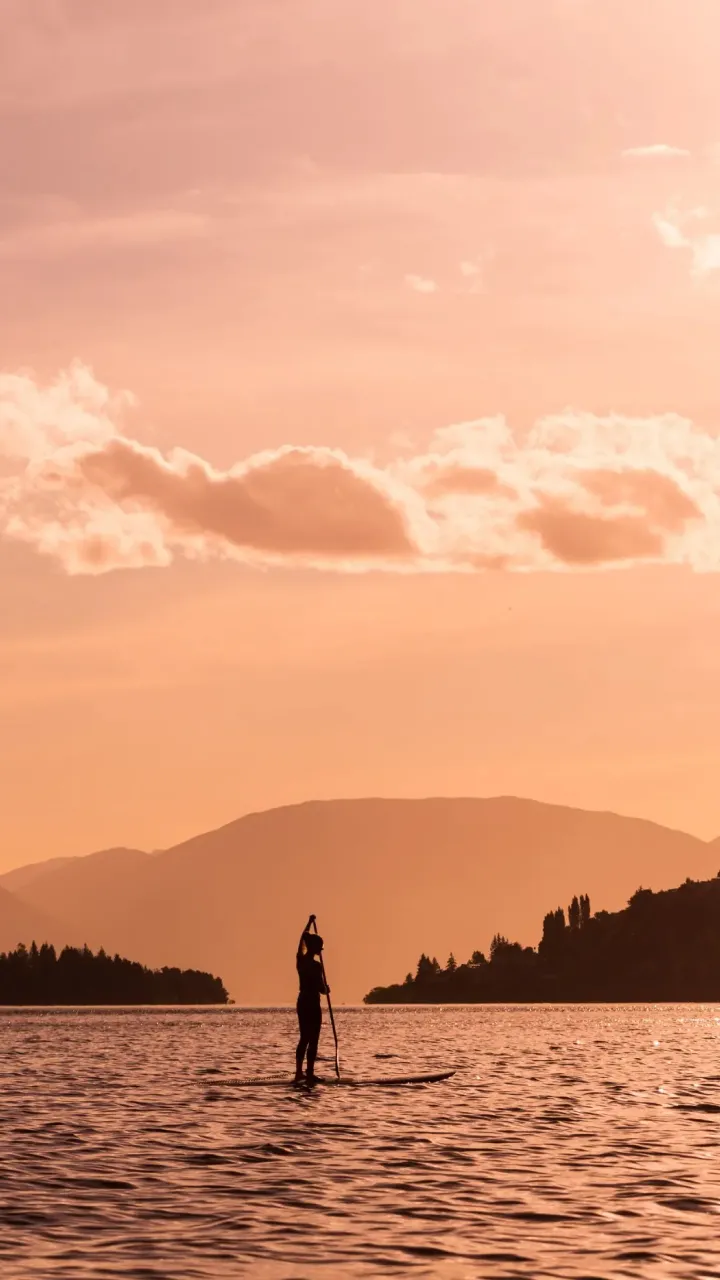 4 important place branding questions
We believe in creating evergreen content; content that remains as relevant today as it was the day it was published. This article on place branding, written by Andy Bethune, our Director of Strategy, is one such piece. It's proven to be one of the most popular Insight articles we've published, so we've decided to offer it to our newsletter subscribers once again. We hope you find it useful. 
Here at Origin we're firm believers in what we call "place branding," the process of uncovering, expressing and nurturing the defining traits and spirit of a place to guide destination marketing and management. Over the last decade, we've worked with destinations from world-renowned resorts to off-the-grid newcomers, and regardless of the brand, there are a number of key trends that keep us revisiting the importance of place branding.
We live in an experience economy. And in this economy, customers aren't buying goods and services, they are paying for unique and authentic experiences. Destination marketers need to understand that the attributes of a place (landscape/amenities/recreation/etc.) are only a fraction of what makes it appealing to potential guests. The desire to have unique, memorable, even life-changing experiences is what drives consumer decision-making in tourism.

Authenticity is the new currency. Sophisticated and discerning travelers avoid attractions in favor of experiences, and seek "local" over "touristy". For destination marketers, this further emphasizes the importance of branding and messaging that aligns with the core essence of the place

Tourism is on the rise. To some struggling destinations, this may seem like a blessing, but many established destinations are starting to see it more as a blessing in disguise. 2017 was the year that "overtourism" entered the lexicon of destination marketing in a big way, with renowned tourism destinations like Venice, Barcelona, Iceland and even Yellowstone National Park facing serious struggles with the volume and type of tourists they attract. While the conversation continues around how to combat the issue, we are firm believers that the "something for everyone" approach — that so often plagues destination marketing — is at least partly to blame. When you aim to attract everyone, you can't be surprised when everyone comes… and tramples your beautiful city/parks/mountains/beaches while enraging locals to the point where they fight back. We believe that the solution lies, at least partially, in defining a specific position for your brand (i.e. what is the "something") and selectively targeting the right type of customer (i.e. more specific than "everyone"); one that best aligns with the positioning and spirit of the place.
Simplifying the Process of Place Branding
Having worked with destinations over the years to define their place brand, we have facilitated brand envisioning sessions with various cities and resorts and the broad range of stakeholders that exist in those destinations.
While developing and articulating a comprehensive brand platform and positioning is a complex process, we've found a simplified four-question framework really helpful to build understanding of how the various elements of branding and positioning fit together.
Why would someone visit the place?
Who is the place best suited for?
How does the place create value for people?
What promise do we make to attract people?
Why would someone visit the place?
What are the intrinsic attributes and elements that contribute to the experience and sense of place?
To develop an authentic brand, you have to first understand the intrinsic elements of the place. If you're not true to these elements, or have lost site of them during the development of your brand, product, or experience, it can be easy to lose that authenticity that's so attractive to today's traveler.
These elements are best discovered through customer research and/or community/stakeholder listening sessions, but we find they typically fall into four categories:
Natural Environment - geography, location, landscape, scenery, weather and climate, nature, wildlife, etc.

Built Environment - city/town, infrastructure, amenities, developments, lodging and accommodation, activities and entertainment, etc.

Culture & Heritage - heritage, historic sites, arts, food and drink, events, etc.

People - lifestyle, values, behavior, interactions with visitors, etc.
The combination of a variety of these intrinsic functional attributes start to define the unique identity of a place, and differentiate it in the competitive landscape.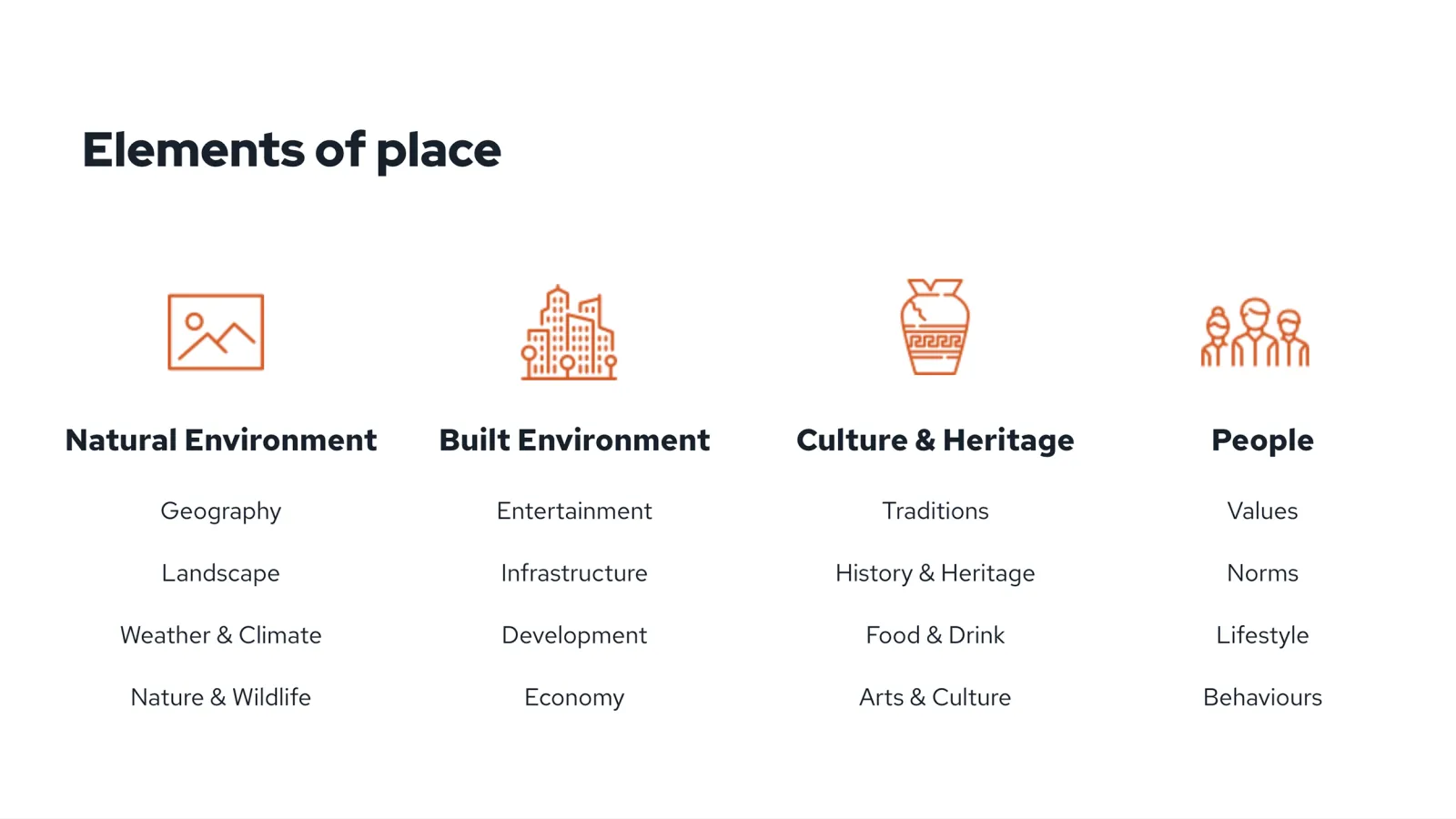 Who is the place best suited for?
Which types of people will most appreciate the place? Which ones won't?
When developing a place brand, it's important to think of the people you are developing the brand for. Many destinations have a loose outline of a target audience that might include some basic demographic information, but we find that developing psychographic profiles of the ideal type of person that will most appreciate the destination helps ensure the best visitor satisfaction. It also guides decision making for the destination helps avoid the "something for everyone" approach to marketing discussed earlier.
There are a number of ways to develop these profiles and consumer research is an important element of it, but we've also found that a simple envisioning exercise can go a long way in starting to outline guest profiles. Depending on the type of destination we are working with, we like to use a set of behaviours and motivators that we plot on sliding scales to indicate their perceived importance to our ideal customer. Again, these can be customized based on destination, but often include:
Travel Preference - preference for established destinations vs. undiscovered destinations

Adventure Tolerance - preference for adventure vs. preference for comfort

Ethical Consumerism - the importance of ethics and social responsibility in their decision making

Social Preference - preference for intimate social environments, vs. a vibrant social "scene"

Activity Preference - are they an avid participant in a single activity (i.e. ski/bike/surf/etc.) or a "dabbler" in many different activities?

Budget Tolerance - while budget is always relative, we look at it with a scale that ranges from economical to extravagant

Cultural Immersion - the importance of immersing oneself in different or foreign cultures when traveling

Primary Motivator - this one is often more relevant to destination resorts, but we look at whether the primary motivator is an activity (i.e. ski/bike/etc.) or resort amenity (lodging/dining/shopping/spas/etc.)

Status Symbols - how important is the perceived status of the destination to the person's identity when choosing travel destinations (think Cannes, Aspen, or Jackson Hole)

Brand Sensitivity - how important are brand names in the consumer's decision process (i.e. would they buy Grey Goose or Kirkland Signature vodka)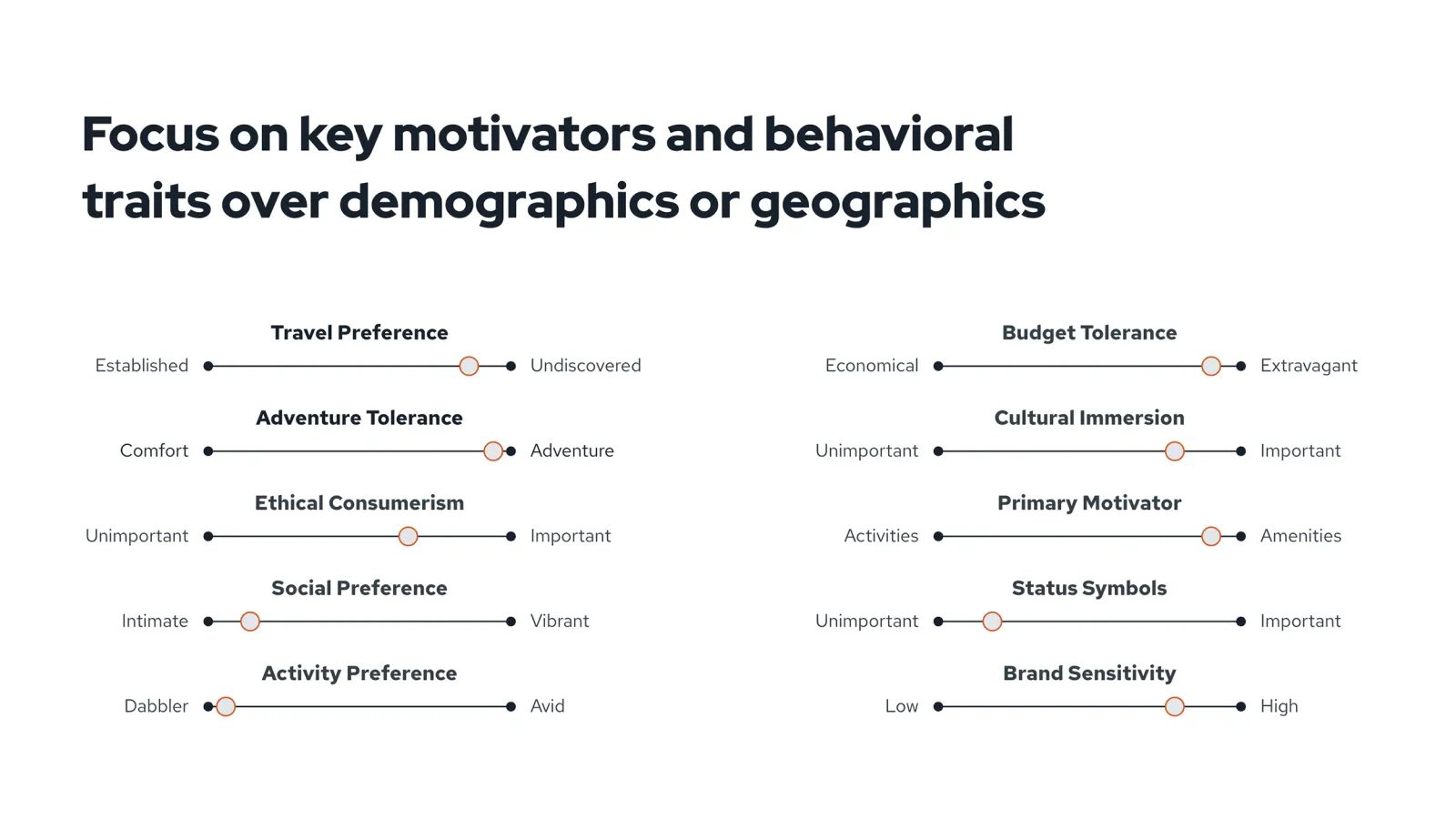 How does the place create value for people?

What tangible and intangible benefits do people get from the place?

While value is always a relative term, it is widely accepted in the world of branding that consumers make choices based on both the perceived functional benefits (the tangible) and the perceived emotional benefits (the intangible). Above and beyond functional and emotional benefits, we also like to include what we refer to as self-expressive benefits:
Functional Benefits - the functional or utilitarian value that a product provides. Powerful engines and finely tuned suspension on a vehicle provide a functional benefit of performance and control. The functional benefit of Goo Gone is that it gets gunk off your stuff. With a mountain resort, the combination of mountains and recreational amenities might provide a functional benefit of easy access to outdoor pursuits.

Emotional Benefits - the emotional benefit goes beyond the functional benefit by looking at the emotions and feelings that a person experiences when they interact with a brand or place. There can be any number of emotions associated with destination brands, but a ski vacation to a challenging mountain might make a person feel adventurous, a wine tasting trip to Napa might make someone feel sophisticated, while a beach or spa getaway might make someone feel relaxed or rejuvenated.

Self-Expressive Benefits - while not always the case, people often use brands to express something about their identity, their values, their individuality, or their status. Brands that allow us to signal something about ourselves are often referred to as "identity brands", and place brands can sometimes fall into this category. It's the reason people put logo stickers of the ski resorts they've visited on their helmets or Thule cargo boxes.
With many brands, the functional attributes and benefits can be similar or undifferentiated, but focusing on emotional and self-expressive benefits when building brands allows us to differentiate the place beyond those attributes, and tap into the power of emotion when marketing the destination.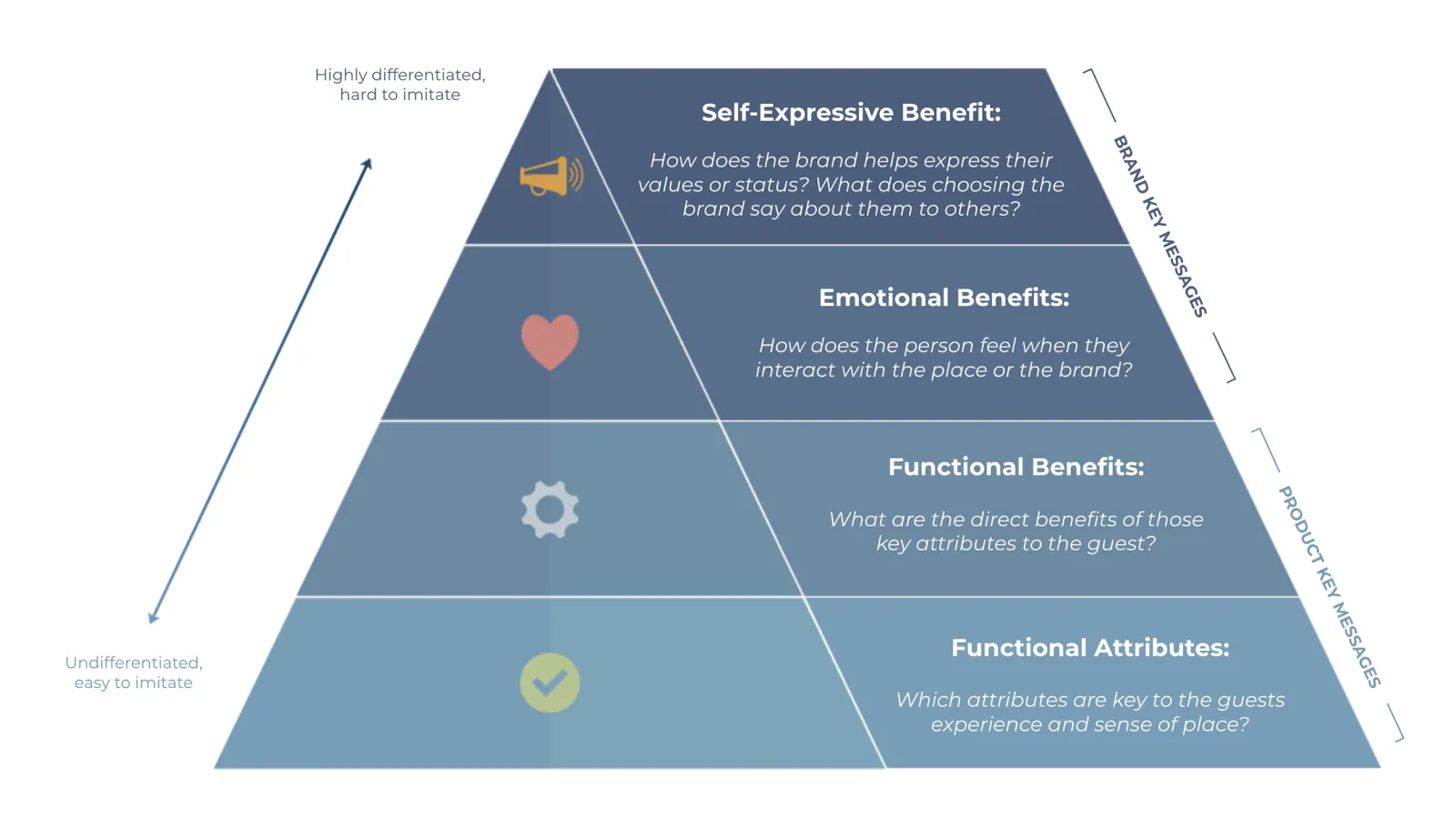 What promise do we make to attract people?
What is the ultimate distillation of key benefits that makes the place desirable to the ideal customer?
The holy grail of branding is to develop brands that are so strong that they can own a word or category in the mind of the consumer. Walmart owns low prices. FedEx owns overnight delivery. Las Vegas owns escapism. Nashville owns country music. Disneyland owns magic.
It's no accident that these brands have such strong associations with these ideas. They have done the work to distill the brand down to its core essence, and to translate that into a singular brand promise; something consumers can expect the brand to deliver every single time.
For a brand promise to work, it needs to follow three simple rules:
It needs to express some kind of compelling benefit that the ideal guest actually wants, whether functional, emotional or a combination of the two.

It needs to be authentic and credible, i.e. tied to the intrinsic attributes and existing perceptions of the brand.

It needs to be kept — and delivered on — every single time.
Piecing it all Together
Once you've answered these four key questions, you have much of the information that's needed to assemble a brand platform. Again, branding is a complex process that cannot be entirely captured in something as simple as this four-question framework, and there are a number of elements that need to be developed above and beyond the content outlined in this article. But when you start with knowing yourself, knowing your audience, and knowing how you create value, the detailed aspects of brand-building  and positioning come much easier.
For destinations, answering these questions is the first step to forming a strong place brand that can become a guide for all future destination marketing and destination management decisions.
Please contact us online to learn more about Origin Outside, a creative services and digital marketing agency for outdoor sports and tourism-based businesses.
Stay up to date with industry news and insight articles by subscribing to "Insights on The Outdoors," our monthly newsletter. Visit https://www.originoutside.com/newsletter to subscribe.